EDIT: The Valentines have been sent! Well, they were sent on Monday, but the point is, some of them should be arriving soon if they didn't today. At least for those of you here in the States XD In any case, I have a request! When you get your Valentine, could you take a picture of yourself with it? I wanna see you all and your smiles! Or frowns I guess, if you don't like the Princess you got

- - - - - - - - - - - - - - - - - - -
Alright, so I'm sure the moment some of you saw the title, you groaned. Valentine's Day, a day devoted to couples and making us single people feel left out and lonely. But you know what? The way I see it, it doesn't have to be that way! I think I may have talked about this before, but I went back through some of my old Valentine's Day journals (talk about flashbacks, weird...) and couldn't find it. So if this is a repeat, I apologize, but I think it's a good message worth repeating.
Valentine's Day isn't about couples. It
can
be, certainly. But nowhere does life's imaginary rulebook say that it
has
to be. If you look up a definition of it on Google? You get this: "Valentine Day: a day for the exchange of tokens of affection."
Yes, corporations and such have twisted the meaning of the day around, trying to get as much money from us as possible. You're expected to buy presents and flowers and cards and jewelry for your significant other. But think back to when you were a kid.
The week leading up to the 14th, you'd go to the store with your mom or dad, buy those cheap valentines in bulk, maybe with some candy... You'd draw on a paper bag to make your own "mailbox". And on Valentine's Day, the teacher would give you permission to get out of your seat, and you'd put a Valentine in every single bag in the classroom. And you'd have one for everyone, because your parents were given a list of kids in the class to make sure you didn't forget anyone

When we were kids, Valentine's Day meant a chance to exchange cards and candy with all of our friends! It had nothing to do with our boyfriends or girlfriends, because even those little kids that had them didn't understand the meaning of the term. It was a day to celebrate each other, and to celebrate
having
each other. As friends more than anything else.
So I want people to think of it that way this year. Don't look at the 14th and declare it "Single's Awareness Day". Instead, think of it as a day to spread the love among your friends, real life or online ones or both! Don't let the stupid money making idiots of the world ruin it for you, make it a good day! Because frankly? We're pretty darn lucky to have the friends we do, and we should celebrate it.
I regards to that, lookie what I have!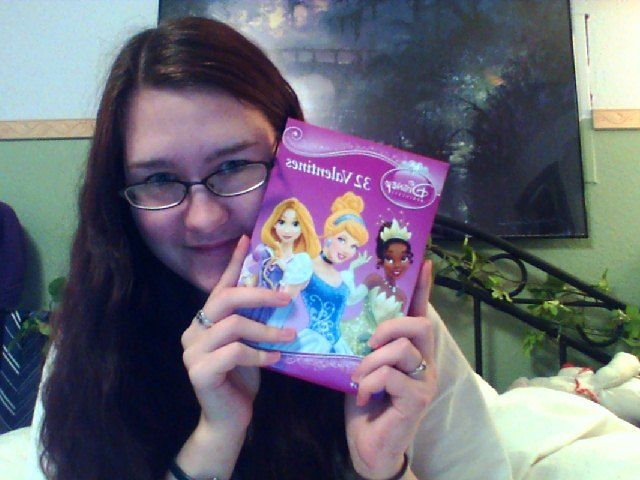 Yes, I have Valentines and I'd like to spread the love! If you'd like one, you're welcome to ask for one! Send me a NOTE please! And remember, if you want one of these, you're gonna have to give me your address. So if you're not comfortable with that, then please don't ask for one!
I'll be posting this on tumblr too...man, 32 Valentines may not be enough >.<
~Whisp